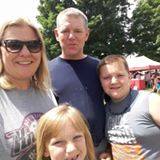 Email Address: smithje@clay.k12.in.us
Hello,

My name is Jennifer Smith. I have been teaching at Northview High School since 2006. I have a Bachelor's degree in Social Studies focusing on U.S. History, Psychology, Sociology, and World History. I also have a certification in Special Education. I have taught in both areas while at Northview.

I am a Northview graduate. I spent two years at Rend Lake Junior College where I majored in Early Childhood Education, while playing both basketball and softball for the Lady Warriors. After I graduated from Rend Lake I transferred to Ivy Tech to complete required classes before transferring to St. Mary-of-the-Woods, where I completed my bachelor's degree.

I am married with two children, both of my children attend Clay Community Schools. In the past I have coached girls' basketball at the middle school level as well as girls' basketball and softball at the high school. I actively coach both of my children in various extra-curricular activities and I am a board member of Clay Youth Football League, and Open Hands Preschool.