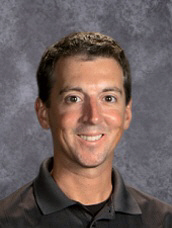 Email Address: troutjo@clay.k12.in.us
My name is Josh Trout. I am from Brazil, Indiana. I am a Northview graduate and I've been teaching at Northview High School since 2006. I teach a variety of classes including: United States History, Psychology, and History through Film. I am also the Girls' Varsity Golf Coach.

I received a Bachelor's Degree in Social Science Education from Indiana State University and a Master's Degree in Education from Saint Mary of the Woods College. I am currently licensed to teach United States History, Government, and Psychology. I enjoy working with young people and I also enjoy the subjects I teach. My goal is to make social studies class both informative and fun. I also strive to form positive relationships with my students.

On a personal note, I've been married to my wife, Kelsey, for 11 years. We have 3 children and live in Brazil. We attend the First Presbyterian Church of Brazil, where I serve as Youth Minister. My hobbies include: golfing, fishing, and coaching my children in various sports.