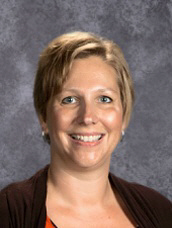 Email Address: connerj@clay.k12.in.us
My name is Jill Conner. I've been teaching at Northview since 1999. I have a degree in History from the University of Notre Dame and a certification in Secondary Instruction from Indiana University -- Bloomington. The last several years I have served as the Economics teacher for the Social Studies Department, but every once in a while they let me teach something else. :) I studied Economics at both Notre Dame and IU.

In addition to my teaching duties, I also serve as a co-sponsor of the Senior Class and of National Honor Society. I also coach the English Academic Superbowl Team.

I grew up in Northern Indiana, but moved to Terre Haute to do my student teaching. I live there with my husband and four children. I love blueberries and manatees. I strongly dislike olives and movie theater prices. Perhaps the most important thing you need to know is that I love my job. I love working with students and showing them how what we learn in the classroom will affect them during their lives. I have fun every day and hope that my students do, too, while we all learn.