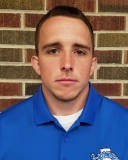 Email Address: maroneypat@clay.k12.in.us
Received a BS in Fitness Development from SUNY Cortland and a Master's Degree in Coaching from Indiana State University. Previous experience includes Professional Internships at Indiana State and Indiana University, as well as a Graduate Assistantship at Indiana State.

Taught numerous Weight Training classes at Indiana State while managing three sports' (Women's Basketball, Softball, Track & Field Jumps) Strength and Conditioning programs.

Originally from Long Island, New York, although the accent may be slipping. Passionate about setting and representing a standard of discipline, respect, honesty and ambition.

The main objective of the Advanced PE class is to show students that they are capable of more than they believe both physically and mentally. Results are based on effort.