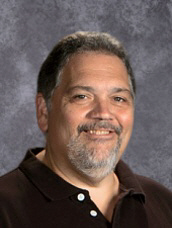 Email Address: ringok@clay.k12.in.us
My name is Kevin Ringo and I have two degrees from Indiana State University, one in Business Marketing and a second in Social Studies Education. I graduated from Staunton High School in 1982 and got my first degree from ISU in 1986. From there I took over operations at Maurizio's Pizza here in Brazil. I received my teaching degree from ISU in 2004 and have been teaching in the Clay Community School System since then, spending one year at North Clay Middle School, one year and Cumberland Academy and have been at Northview since 2007.

At Northview I have taught Indiana Studies, Early Topics of US History, AP US History, US History, and World History. I enjoy working the students in class, opening their eyes to events of the past that continue to shape our world today. Throughout all the History courses I have taught, all deal with different cultures from around the world, and I try to convey to the students the importance that all cultures need to be accepted for what they are, not better or worse, just different.

I have been a lifetime resident of Clay County and live with my wife Deb, who recently began her own career in teaching. Between us we have 6 children, along with 2 grandchildren and counting.