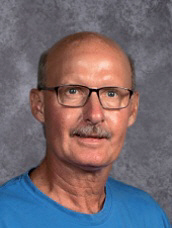 Email Address: dragond@clay.k12.in.us
My name is Dan Dragon. I am a 1974 graduate of Terre Haute North High School in Vigo County. I started my profession in the construction industry in 1972 while working summers and weekends for my father who is a general contractor. I received an A.S. degree in HVAC from Ivy Tech in 1993, which is the same year I began employment with Clay Community Schools. I continued my post-secondary education and received a B.S. degree from ISU in Trade and Industrial Education in 2002.

My wife and I have lived in the Clay County area since 1975 where we raised two daughters that are both employed in public education. We enjoy raising our own hay crop for a small Limousin cattle herd we have while being actively involved in CRADLES of Clay County, Hope Reins, and the Clay Building Trades program.

I have instructed students in Building Trades Technology 1 and 2 for 26 years. I have and accept students from both Northview and Clay City High Schools into the program. Building Trades is currently on the 20 project house in Clay View Estates. This subdivision has been exclusively built from students and has another 15 lots in which to continue the program.